Our Customer Reviews
Satisfied customers served in southern California since 2004
Lucky Sully was called for a 2nd opinion on some expensive repairs recommended by a prior chimney sweep. Mike did a thorough safety inspection and determined that, although built in 1940, our chimney was sound (other than a couple small repairs he did at no additional charge) and safe to use. It would have been easy to sell us on a $2000 repair that we'd already been told we needed. Mike's honesty will be rewarded by my referral of his company to all my neighbors and a few real estate agent friends.
ServiceMagic Review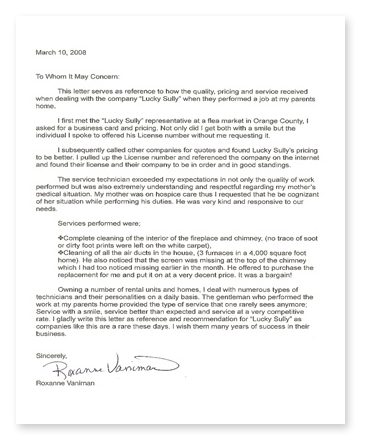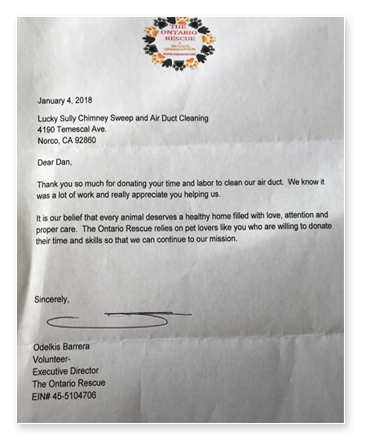 Thank you so much for donating your time and labor to clean our air duct. We know it was a lot of work and really appreciate you helping us.
It is our belief that every animal deserves a healthy home filled with love, attention and proper care. The Ontario Rescue relies on pet lovers like you who are willing to donate their time and skills so that we can continue to our mission.
Sincerely,
Odelkis Barrera, Executive Director
Brian has been a complete pleasure to work with.  He was recommended by a local Realtor to handle the chimney inspection of the home I was in contract to purchase in Laguna Beach.  His communication was super solid.  Not only sending me a detailed report but also following up with a call to go into further details.  There was no doubt I wanted Lucky Sully to complete the work that was identified in the inspection.  I did all of this remotely, as I was in Northern California.  I contracted with Lucky Sully and Brian got started with some exterior work, while we waited for the home to close escrow and the previous owners to vacate.  I finally met Brian at my new home to do the interior work.  He was timely, professional and personable.  So much that we left our dog with him as we needed to step away from the house for lunch and a few errands.  I highly recommend Lucky Sully and Brian!
Sincerely,
Mark S. Wyss, Realtor
Compass Real Estate – Los Gatos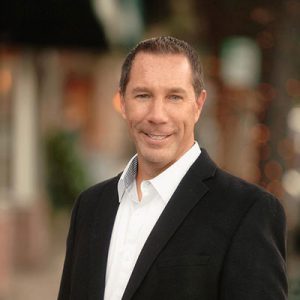 "Professional , friendly attitude, Expertise in chimney repair, Honest."
Betty D. 7/22/20
---
"Excellent service, on time and good communication including Inspection."
Carolyn D. 7/21/20
---
"Everything went well from start to finish. Lucky Sully's computer system told me when Brian would arrive and I was impressed that they even had a picture of him so I would know what he looked like. He was efficient, fast and kept the area clean. He is very nice and explains everything. I have used this contractor before and I have good service every time. I will continue to use them."
Joann S. 7/16/20
---
"Brian was an excellent communicator and craftsman."
Evan H. 6/17/20
---
"So impressed! What an amazing job and difference"
Jacquelyn C. 5/16/20
---
"These guys are so professional and I trust them and their advice! Most people don't even know they should get their chimney inspected on a yearly basis but it is very import."
J and D H       5/14/20
---
 "Brian was punctual, courteous, professional, personable and did a fine job installing our copper shrouds, chase covers and stainless steel spark arrestors."
Wendell W.  5/11/20
---
"Excellent friendly service.  They figured out our problem and suggested a great solution solving our smoke and bee issues"
Ernie & Susan D   5/9/20
---
"Brian from Lucky Sully was precisely on time, very torough and clean in his work, cheerful and friendly.  And all at a great price.  I can't recommend Lucky Sully highly enough!"
Barrett & Beverly S  5/5/20
---
"So grateful for the job Brian did for my fireplace repair. He was so polite and answered all my questions. I feel I can safely use my fireplace again and love my new gas logs. Highly recommended"
Cheryl C 4/28/20
---
"This was the second visit to address a much ignored fireplace. Again a pleasure to work with Brian – on time and extremely considerate. Beautiful job."
Bonnie Y  4/27/20
---
"Brian did a great job. Arrived and went right to work. Provided before and after video of the inside of the chimney."
Larry H  4/25/20
---
"Helped me become familiar with using my chimney. Appreciate you covering my floors and keeping things clean. Thanks for wearing a mask. Keeping us all safe."
Marla A 4/20/20
---
Pam G.  4/18/20 "Lucky Sully completed the job of rebuilding my damaged fireplace, professionally, timely and on budget. I recommend highly.
"Love how quickly they came and fixed to problem so efficient and would recommend them highly..communication was awesome."
Adrian B.  4/9/20
---
 "On time. Nice guy.  Great service.  Thanks very much.  My chimney is like new.  Will call again net time it's due."
Aneliese B  3/21/20
---
"Brian did an awesome job.  Couldn't finish one day because of rain on slick tile roof but scheduled and came back and finished as expected and on time."
Jake V.  3/18/20
---
"Brian did a great job.  On time and very polite.  I would highly recommend them.  Very friendly"
Tracy P  3/17/20
---
"This is the second time we have used Lucky Sully! They are the only Chimney Sweeping company for us. Mike G. Sullivan is  just wonderful and does a very thorough job. He arrives on time!! He cleans from the top of the chimney down and from the bottom up. He is the only person who has ever done the cleaning this way. He and his company are also very honest. I asked if having him come every two years was proper for the amount of wood we use and he said yes. He didn't feel we need the chimney swept every year based on our wood usage. We are very happy with this company and his service. I wanted to write a second review as it has been two years since my first review. I found them on Angie's List originally and I am so happy I did!! This is a quality company who gives AAAAAAA service!!! I cannot recommend them enough!! Thank you Mike, again. Thank you Lucky Sully, again!!!! Now I can't wait to light our first fire of the season and feel safe about it at the same time!!!"
Jimy and Sondra
---
"I was recommended to Lucky Sully by a few agents in my office. I had a great experience! He was very knowledgeable & honest & I received the quote Immediately, helping my negotiations and sale. I will definitely use them again and highly recommend."
Alison L.
---
Voicemail of a Happy Customer!
Tustin, CA
---
"Very professional and quick to get the job done."
Jim T., Norco
---
"Brian was very knowledgeable, pleasant, and professional.  He was on time and efficient and although our chimney was extremely dirty with over 40 years of built-up soot… it looked fantastic when the job was completed."
Santa Ana
---
"Serviceman was very professional and courteous. Performed work exceptionally well. Explained all details on how to operate a damper.  Also was very neat and did a great job of cleanup when finished.  Would use them again!"
William G., Rialto
---
"They were great, did a good job were very professional.  They showed up on time did what was asked and was great at what they did.  Would use them again."
Chris M., Long Beach
---
"Professional, prompt, through, and cleaned up after the work done."
Dan H., Chino Hills
---
"I am a realtor and I can promise you I will be keeping Mike's number for all my future listings with a chimney."
Mary Ann G., Orange
---
"Initially performed an inspection on a fireplace. Later installed a new chimney cap and new interior kit (artificial logs, new gas line). My inspection was performed by the owner of the company. He was right on time and performed a very thorough inspection of the fireplace in my new home. Since I had just purchased the home, I wanted the fireplace inspected by a certified professional before lighting it for the first time.
After his inspection, he recommended a new cap to prevent animals and rain from penetrating, and he suggested that I replace the interior components of the fireplace as well since they were old and showing their wear. We went over models and prices, and i checked his prices against the internet. His prices were SLIGHTLY higher than what I could find online, but he pointed out that his prices include installation. Also, his logs were hand painted and of higher quality than what was available online.
Knowing what I know now, I would HIGHLY recommend having this company install your new logs rather than doing it yourself.
Their installer arrived with a complete setup to remove the old and install the new. Everything is removed down to the brick, a new gas line and grate are installed, and the logs are installed after the brick is vacuumed and brushed clean. My installer moved very efficiently, and it still took him two solid hours to complete the job. I honestly had no idea how labor intensive this install would be.
Also, the manner in the logs and grate are installed matter. The final result that the installer achieved was far superior to anything I might have pulled off. I wound off with an elegant fireplace with new gas lines and a properly capped top.
Basically this is a highly skilled, honest company."
Dirk Dhulst, Buena Park
---
"Hello Brian,
Trust all is well and you're staying busy. I wanted to pass along a great big thank you for the work / craftsmanship you performed on our fireplace. I was most impressed with your attention to detail and the manner in which you performed the work. And, you prepared our home to have the least amount of impact for a very messy work. You even were sensitive to keeping your outside work area clean and when you departed one could not tell the driveway was used for such a "dusty" job. Before you began your work you even asked that I close the garage door so as not to impact the inside. THANK YOU!!!!! In today's service oriented businesses very little attention is paid to providing great service and with such great end results. We will always use "Lucky Sully" for our fireplace needs. Oh, and thanks for helping our son with the dryer venting issue. Please feel free to use me as a reference in the event one may be needed.
We took your advice and ordered the two fireplace pieces from "Great Wall of Fire." They are a great family type company and was very easy to work with. We have the two pieces in place now and can't wait for the winter months to try out the new heat management system. If you happen to be in our area, Laguna Hills, in the future could you please stop by and do a little adjustment to the gas log lighter tube? With the new log rack it needs a little positioning further back in the fire box to be under the new grate."
My Best,
Dale Walters, Laguna Hills CA
See more of our customer reviews on: