Masonry chimneys and fires
The pictures show the inside of a chimney which has cracks and also the outside and top with a cracked crown.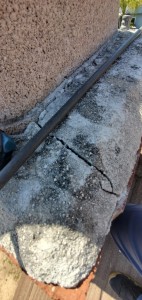 Signs you have had a chimney fire:
You may have had a dangerous fire in your chimney which has compromised the structure of your chimney, and not even know it. It is estimated that every year there are over 10,000 house fires caused by fires in a fireplace. In the last two weeks, we have spoken to realtors in Orange County who reported they knew of homes that burnt down or were severely damaged due to undetected problems in their chimneys.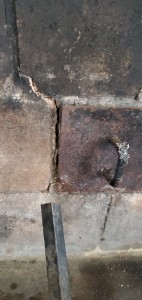 Here are some signs that you may have already had a fire:
Puffy or honeycombed creosote (buildup from burning wood)
Cracks in the exterior masonry
Evidence of smoke escaping through mortar joints or tile liners
Warping of the metal damper (used to close off fireplace)
Discolored spark arrestors (caps)
We have had homeowners tell us that they have burnt wood for 25 years in their fireplace and never gotten it cleaned out. The creosote buildup is highly flammable and this is a fire hazard. It only takes one fire to ruin your life!
We inspect your chimney with a video camera to make sure that no hazards go undetected (also you can see it is your home, and that we are not making up any dangers). We are also licensed, bonded and insured for your protection.
https://luckysully.com/wp-content/uploads/lucky-sully-chimney-sweep-logo.png
0
0
writer
https://luckysully.com/wp-content/uploads/lucky-sully-chimney-sweep-logo.png
writer
2019-07-05 20:55:35
2020-06-21 18:13:55
Masonry chimneys and fires