Your chimney and earthquakes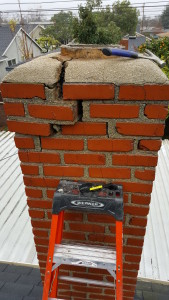 Today parts of the San Gabriel Valley, the Inland Empire and Orange County felt a significant earthquake (7.1). If you have an older masonry chimney and you felt a significant movement of your property, it is usually recommended that you do not use your fireplace until it is inspected with a video camera to make sure there are no hazardous cracks.
If the cracks are small, the cost to fix them is very reasonable. If they are allowed to get larger with additional earthquakes, or rain coming into your chimney, or if you burn a lot of fires, you could have a house fire, or the chimney could deteriorate to a point where major repairs are needed.
We provide video camera inspections along with our chimney cleaning services. We used to charge $200 extra for video inspections but now include that with our chimney sweeps. If you use another company, make sure they use a video camera and it shows that it is your property and there are no breaks in the video. We have been called to give a second opinion on a number of large repair estimates where the extent of the repairs was greatly overstated.
If you are concerned about the safety of your chimney and fireplace schedule an inspection this summer. If you wait for fall, you might have to wait 4 to 6 weeks to get an appointment.
https://luckysully.com/wp-content/uploads/lucky-sully-chimney-sweep-logo.png
0
0
writer
https://luckysully.com/wp-content/uploads/lucky-sully-chimney-sweep-logo.png
writer
2019-07-05 21:06:51
2020-06-21 18:13:16
Your chimney and earthquakes